Rotating Hair Dryer Curler Straightener Hair Brush Comb
Description

Tourmaline Ceramic Thermal Conductor
Adopting ceramic coated heater, this hair wand can release negative ions to moisten and nourish the hair, making your hair soft smooth, bright shiny, longer lasting and provides heat evenly for less hair damage.
1.7m 360 degrees swivel power cord, you can rotate it at any angle without worry about winding.

Multifunctional hair dryer brush, fit for drying, curling a variety of hair styles.
2 Interchangeable Brushes
This Hot Air Brush Styler and Dryer comes with 2 interchangeable spin brushes .The barrel that 2 inches(50mm) diameter is great for thick hair. The barrel that 1 1/2 inches(36mm) diameter is suitable for softer more cause hair.
3 Temperature Settings / Multi-direction Settings
Hot/Warm/Cold 3 temperature settings meet different needs of hairstyles. The rotation mechanism of the hair dryer brush support to rotate in 2 directions, which provides plenty of curl movement and help you create a natural-looking curl.


2 interchangeable brushes
This hot air brush shaper and dryer are equipped with two interchangeable rotating brushes. A larger brush barrel is perfect for thick hair. A smaller lens tube is suitable for softer and more casual hair.
360 ° rotation and adjustable rotation
Two 360 ° rolling brushes in both directions (left and right) and two detachable brush heads meet your daily needs. 360 ° rotating power cord for safer use at home.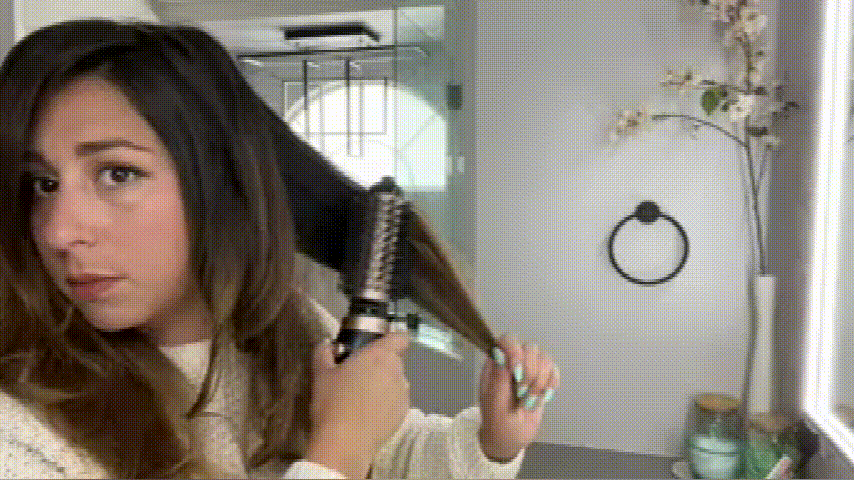 3 gear setting/multi-directional setting
Three temperature settings, hot/warm/cold, can meet the needs of different hairstyles. The rotating mechanism of the hair dryer brush supports rotation in two directions, providing a large amount of curling motion and helping you create a natural curling effect.
Safety thermal conductor
This hair stick uses environmentally friendly alloy as a thermal conductor, which can release negative ions, and moisturize and nourish hair, making it soft, smooth, bright, shiny, durable, and evenly providing heat, reducing damage to the hair.
Ergonomic streamlined body design, easy to hold and operate.
Two interchangeable brushes and 1000W rated power, let you dry your hair quickly and style your hair easily at the same time.

With rotational function,can 360° clockwise and counterclockwise rotation freely, enables you to blow dry your hair effortlessly.
Specification
Material: ABS
Frequency: 50/60Hz
Power: 1000W
Applicable hair: Dry and wet
Overheating protection: Yes
Color: Purple,Red
Cord length: 1.7m
Power cord tail assembly mode: 360° rotatable
Size: 38.5*6cm(Length*Width)